Originated from Kagoshima in Japan and imported from Japan, Ceremonial Grade Organic Matcha have already obtained JAS Organic Certification, USDA Organic Certification and EU Organic Farming Logo.

Product Description:
Organic Matcha is shade-grown to avoid direct sunlight from young tea shoots about 3-4 weeks before tea picking to promote the proliferation of sweet ingredients in tea.
The Ceremonial Grade Organic Matcha is vibrant green, and the powder is very fine. It has strong matcha aroma. You can taste umami, with very mellow sweetness.
Japanese tea ceremony usually treats guests with this high-grade matcha, which shows that Ceremonial Grade matcha is so high quality and precious.
What is Matcha?
Matcha is a type of green tea. It is shade-grown to promote the sweet ingredients in tea (from L-Theanine) and reduce bitterness (from Catechin).
The dark growing environment makes the tea produce more chlorophyll, which is more vivid in color than green tea.
After the sprouts are removed, they can be ground into a powder by stone grinding.
The nutritional value of Matcha:
Drinking a cup of matcha is equal to eating a whole piece of tea leaf. The nutritional value of matcha is higher than that of ordinary green tea.
Matcha contains epigallocatechin gallate (EGCG), known as the "king of catechins". The antioxidant concentration is 137 times higher than that of green tea!
Catechin can promote metabolism, help burn fat and digest, and achieve the effect of reducing fat and losing weight. Matcha has excellent antioxidant capacity, and catechins can scavenge free radicals and delay aging.
In addition, it can prevent cardiovascular and cerebrovascular diseases and cancer, tea polyphenols can dissolve fat, and vitamin C can promote cholesterol excretion and maintain intestinal health.
Special recommendation:

Green tea is detoxifying and suitable for people who are always hot and sweaty. The caffeine of Matcha is the highest in all teas, and it has the effect of refreshing and relieving. It is suitable for students and workers.
Because matcha contains L-theanine, it greatly reduces the irritation of caffeine. After drinking matcha, it won't increase the heart rate or cause insomnia like coffee, but it will have the effect of decompression.
Pregnant women can also drink matcha, and the nutrition is very helpful to the health of the baby and the mother.
It is important to pay attention to the control of the serving size. If you drink 4 servings of matcha a day, normally the intake of caffeine will not exceed.
Origin: Kagoshima in Japan
Suggested usage: For drinking/serving guests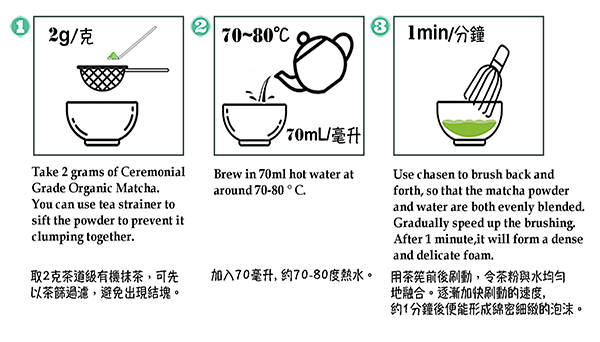 *If the water temperature is too low, the amount of matcha powder is not enough or the whisking speed of the tea is too slow, it will affect softness and density of the foam.
Storage period: It is recommended that the product be kept refrigerated or stored in a cool dry place
Note: Due to different physical conditions, especially pregnant women and those who are weak, we suggest you to consult a registered physician before consumption.
🛒Visit https://www.missbearhk.com/en/products/light-ceremonial-grade-organic-matcha-japanese-green to know more about (light set)Ceremonial Grade Organic Matcha.